These Powerful Decentralized Exchange Platforms Are the Search Engines of DeFi
Article by oxdog | Edited by Trewkat | Cover Art by ab_colours
---
Welcome to Bankless Publishing's Crypto Basics Series. We'll be shipping all of our introductory web3 content on Mirror each Monday, enabling users to curate a web3 reference library by minting NFTs on Optimism.
---
When you want to swap your tokens, you have countless DeFi Exchanges (DEX) to choose from, such as Uniswap, TraderJoe, dYdx or Curve. All exchanges have ever-updating swap prices and varying slippage. With over 250 DEXs listed on CoinGecko, you will never get the best possible conditions relying only on your DEX of choice. Searching all DEXs for the best price is unreasonable, and luckily you don't need to; this is precisely what DEX Aggregators are built for. They are a search engine for decentralized exchanges to find you the best conditions across all DeFi. What are they, how do they work, and what are the best aggregators?
What Are DEX Aggregators?
You can think of DEX aggregators as being similar to search engines for accommodation. When you search for a place to stay, you have hundreds of options to choose from. If you are a maniac, you will visit every hotel's website individually and compare their prices. If you are an ordinary person, you use a hotel search engine like Trivago that helps you find the best fit. It saves you time and money!
When you visit the same DEX over and over, it is like staying at the same hotel every time you travel. It is convenient, yet you are very likely missing out on lower prices and more beautiful stays. DEX aggregators are here to help.
Decentralized finance is built on liquidity that users provide. A formula is used to calculate swap rate and slippage based on the underlying liquidity available. Because liquidity is constantly changing in each exchange, rates fluctuate with it. DEX aggregators monitor several liquidity sources across DeFi and use sophisticated algorithms to detect the most favorable rates with the least slippage.
When you trade on an aggregator, you are still using the underlying protocols of the DEXs, but the aggregator decides which one is the best for you. Your trade may even be split across multiple exchanges to give you the best possible conditions. Two famous examples of DEX aggregators are 1inch and Paraswap.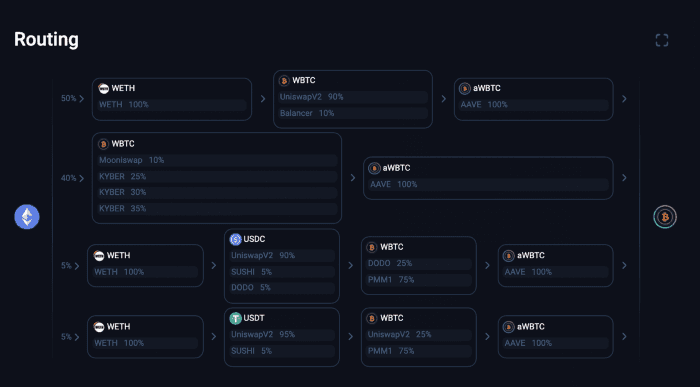 Finding DEX Aggregators
1inch
1inch is the number one DEX aggregator with over $236B+ in total volume, 265 liquidity sources, and availability on nine chains: Ethereum, Binance Chain, Polygon, Optimism, Arbitrum, Gnosis, Avalanche, Fantom, and Klaytn. This aggregator can also be used for yield farming and has its gas token named Chi, which can be burnt on trade to save gas.
1inch also has a mobile wallet (iOS/Android) where you can store your assets, buy crypto with fiat, transfer on multiple networks, swap tokens, and stake 1inch to gain governance rights and eventually be eligible for gas refunds. You can find more 1inch stats here.
Paraswap
Paraswap is similar to 1inch, but smaller. It has a total volume of $30B and is deployed to six chains: Ethereum, Polygon, Binance Chain, Avalanche, Fantom, and Arbitrum. A benefit of trading on Paraswap is the gas refund program. When you stake a certain amount of PSP, you can enjoy up to a 100% gas refund. For example, if you stake 5,000 PSP, which equals around $100 at $0,023 per token, you get 50% of your gas refunded.
Also, Paraswap recently opened early access to their mobile app. Currently, it is only available for iOS (Apple) users, and you have to stake PSP to be eligible. If you are curious, you can find more information here and stats about Paraswap here.
Besides 1inch and Paraswap, you have other options you can trade on.
The Future Is Here
In the future, it will be uncommon to visit a DEX or aggregator directly. As wallets' functionality and user experience designs improve, DEX aggregators will be built directly into them. So instead of opening your browser, visiting an aggregator, connecting your wallet, and initiating a transaction, you can hit a swap button in your wallet app, which uses an aggregator under the hood.
Many wallets already have this implemented. If you've ever used the swap feature on MetaMask, then you've used an aggregator, since MetaMask implements the same 0x API that Matcha (mentioned above) uses.
If you haven't tried a DEX aggregator, now is your time. It will immediately pay off by saving money that would otherwise be lost on every trade you make.
To learn more about DEX aggregators, take the Bankless Academy lesson on this subject.
---
Author Bio
oxdog is on a 4-year daily meditation run streak, and soon he will be able to levitate and say no to chairs // React TS Solidity Developer // Contributor BanklessDAO.
Editor Bio
Trewkat is a writer and editor at BanklessDAO. She's interested in learning as much as possible about crypto and NFTs, with a particular focus on how best to communicate this knowledge to others.
Designer Bio
ab_colours is a versatile designer with over seven years of experience. He specializes in doing product design, UX design and brand identity. He has been DAOing for the past eight months and has been able to amass quite a lot of knowledge about the fascinating blockchain space.
---
This post does not contain financial advice, only educational information. By reading this article, you agree and affirm the above, as well as that you are not being solicited to make a financial decision, and that you in no way are receiving any fiduciary projection, promise, or tacit inference of your ability to achieve financial gains.
---
Bankless Publishing is always accepting submissions for publication. We'd love to read your work, so please submit your article here!
---
Other Articles in the Crypto Basics Series
Decentralized Ledger Technology 101 by The Crypto Barista
The 101 on NFTs, A Briefing by Lanz
4 Simple Steps To Join a DAO by Samantha Marin
Towards Better Token Distribution by Paul Hoffman
Cryptocurrency Wallets 101 by ijeblowrider
How To Learn Solidity by oxzh
Ultimate NFT Red Flag Checklist by kalex1138.eth
Four Factors That Make a DAO Sticky by Peter Jones
14 Blockchain Basics by Hiro Kennelly
The Beginner's Guide to Promoting NFTs by Monique Danao
DAO Governance Primer by EthHunter
The Three Pillars of Discord by Daryl, Lanz, and Roy